There's lots to know in November! Check out our monthly chalkboard: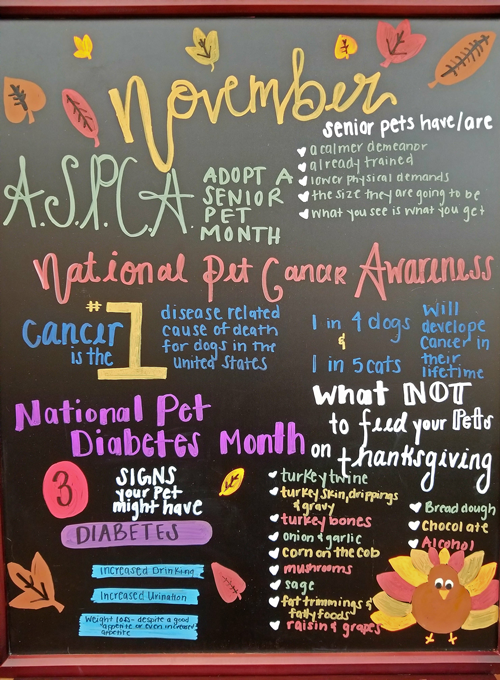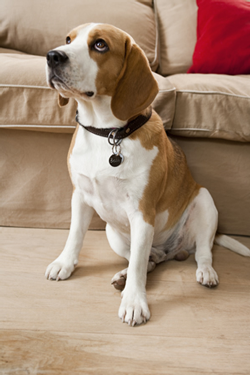 Cats and dogs can develop diabetes, just like people can. The disease is fairly common, in fact. Diabetes is reported to affect anywhere between 1 in 100 to 1 in 500 dogs and cats. Diabetic pets can list happy, healthy lives when their diabetes is well-regulated. The key is early diagnosis and treatment.
3 Signs Your Pet Might Have Diabetes
If you notice these signs in your pet, please make an appointment with us.
Increased drinking
Increased urination
Weight loss, despite a good appetite (or even increased appetite)
Complications of Diabetes in Dogs and Cats
This information is from Pet Diabetes Month's website:
"Dogs and cats with diabetes can develop other health problems, usually after living with diabetes for a year or more.
"For dogs, the most common complication of diabetes is cataract formation. Persistently high blood glucose levels make the lens of the eye become opaque, causing blindness.
"For cats, weakness of the hind legs is a common complication. Persistently high blood glucose levels may damage nerves, causing weakness and muscle wasting.
"For both dogs and cats, avoiding high blood glucose levels should help prevent or delay these complications. For this reason, early diagnosis of diabetes in your dog or cat is especially important."
What is Life Like with a Diabetic Pet?
Watch this video of real pet owners describing the care and treatment of their diabetic pets– you'll see that diabetes management is something most people can do!