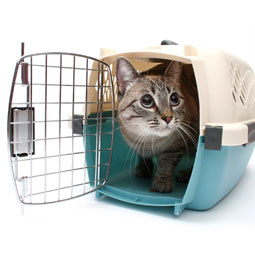 As September comes to a close, we want to highlight National Disaster Preparedness Month. When preparing for a disaster, it can be easy to overlook planning with your pet in mind. But with some advance thought, your cat or dog will have their best chance of making it through an emergency safely.
Create a Grab & Go Bag
If the worst happens, and you need to evacuate your home, a prepared bag of your pet's necessities can take some of the worry out of the event. It will also help you evacuate safely and quickly. Place the bag in an easy to access and easily remembered spot. Include these items:
Pet food
Feeding bowls
Bottled water
Collar with tags
Pet toys
Pet medications
Leash and/or rope
Muzzle
Current pet photos
List of contacts
Litter box/ waste bags
For more information on disaster preparedness and your pet, read this article from the ASPCA, which includes information on rescue alert stickers, safe havens and designated caregivers. We hope you never experience disaster with your cat or dog, but being prepared is the best course of action.