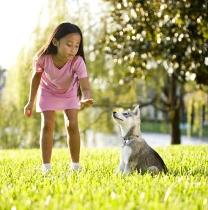 Do you wish your dog listened a little better? Or maybe has some bad habits you wish you could break? Now's a great time to make a New Year's Resolution to engage in dog training. By this time next year, you and your dog could make amazing progress.
The Association of Professional Dog Trainers sponsors National Train Your Dog Month in January– and its website is a great resource. Also, here's a helpful video from Zak George to put you in a productive training mindset:
Dog Trainers in Cincinnati
Cincinnati and surrounding areas offers many dog training options. When you're ready to find a professional who fits you and your dog's needs, these four providers are a good starting point:
If you have any questions for your veterinarian about dog training, please give us a call.