Adopt, Donate or Volunteer with the Animal Adoption Foundation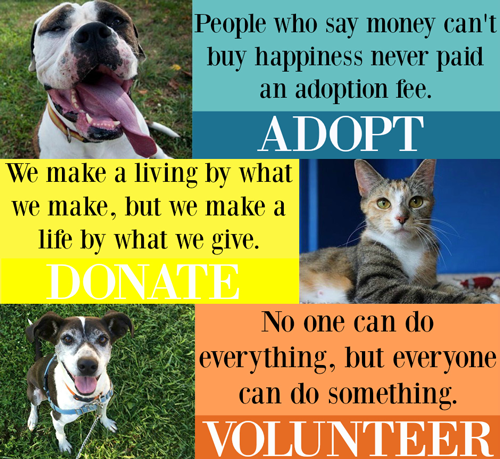 Celebrate ASPCA's Adopt a Shelter Dog Month by helping animals in our local community. Giving a special dog a forever home is a wonderful way to help, but not everyone is able to make that commitment just now. Read about volunteering  and see if this opportunity might be the right fit for you.
Animal Adoption Foundation is an open and welcoming shelter with volunteer orientation classes and convenient times. Volunteer opportunities include:
Serving as a shelter volunteer
Specializing in cat or dog care
Fostering a pet in your home
Joining the AAF committee
Visit the shelter website to fill out the volunteer application.
Greg Ollinger – Animal Adoption Foundation's Volunteer of the Month
Meet Greg! Greg was nominated for Volunteer of the Month because of the many hats that he wears here at AAF.  Greg currently serves on the Board of Directors as our Treasurer.  As Treasurer, he has helped us to make vast improvements in streamlining our financial processes.  When he is not wearing his Accountant hat, he is strapping on his tool belt and addressing the various repair issues that crop up in the shelter.  We call him "MacGyver" because of his ability to fix anything and find solutions, with sometimes minimal resources.

Greg tells us: "I first started volunteering at AAF about four years ago.  My wife Sharon got me involved and I started out doing a few maintenance projects around the shelter.  Since I have an accounting background, the board approached me in 2014 about consulting with them to update and improve their accounting system.  I joined the board in 2015 and became treasurer of AAF later that year.  Today I divide my time at AAF between accounting and shelter maintenance.  This has been a great experience for me and I thoroughly enjoy the staff and volunteers.  I truly believe in the mission of the Animal Adoption Foundation and I am happy to further that effort in any way I can."
About the Animal Adoption Foundation

The Animal Adoption Foundation is a non-profit no-kill shelter for dogs and cats that have been abused or abandoned. AAF provides a safe and humane environment for dogs and cats that are waiting to be adopted. Our caring volunteers and generous, loving donors enable us to provide a safe and happy haven for our special friends. The shelter currently houses approximately 85 cats and dogs.
Animal Adoption Foundation
2480 Millville Ross Rd.
Hamilton, OH 45013
Adoption Hours:
Tuesday- Friday:  4pm -7pm
Saturday & Sunday: 1pm-4pm
*Closed Monday*
*appointments available upon request                                                                 
Volunteer Hours
Monday: 11am- 6pm
Tuesday-Friday: 11am-7pm
Saturday: 11am-4pm
Sunday: 12-4pm